We do the job right the 1st time
In 1992 David Voytovich started National Fiber Construction Co. to provide Trenchless / Directional Boring services to municipal, business, and residential utility providers as a reliable time saving and cost effective construction alternative to open trenching. As we grew, we saw the need to include Overhead Construction and Structural Cabling to provide a turnkey solution to our clients. Our employees are Underground and Aerial Construction experts who use state of the art techniques and equipment. National Fiber Construction provides unequalled outside plant construction solutions to utility providers throughout Michigan and surrounding states.
Customer Service
National Fiber Construction Co. realizes that customer service goes well beyond the placement of the utility infrastructure. We are there for our customers every step of the way. We provide our customers with a comprehensive site evaluation prior to beginning our construction. We want our customers to know at the start of each project the unique aspects of their utility construction undertaking.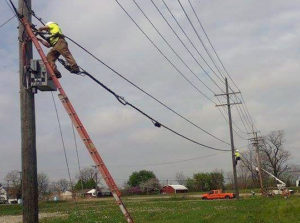 No two utility projects are ever alike, extensive analysis of soil types; what impact other currently installed utilities may have on the project; the location of streets, sidewalks, landscaping, and other above ground structures, and how weather conditions may impact the project are all things that are taken into account before the Directional Boring, Aerial Construction or Interior Cabling begins. We also provide customers with workflow and deadline schedules to keep customers up-to-date as the total construction progresses. We know that keeping customers informed from start to finish is a key component in building lasting relationships of trust.
We Care
David still personally oversees the operation and interacts with all Foremen on a daily basis.  David and his team at National Fiber Construction attract the most talented professionals by offering a safe, quality-focused work environment free of "big company" hassle and with open channels of communication directly to ownership.